What is a VIP upgrade?
A "VIP upgrade" is a package which does not include entry into any concert—there is no general admission (GA) tickets included, and you will need to buy a ticket separately. You cannot attend any meet and greet without the purchase of a general admission or pre-sale ticket. Please be mindful when purchasing a "VIP upgrade" that it does not include a ticket. GA tickets can be purchased at the venue or on the venue's website. We do not currently offer refunds for any purchases where a VIP upgrade was "accidentally purchased" or done so without knowledge of what was being purchased. If you purchase a VIP upgrade, you will receive an email that looks like this and contains all of the details of your VIP experience: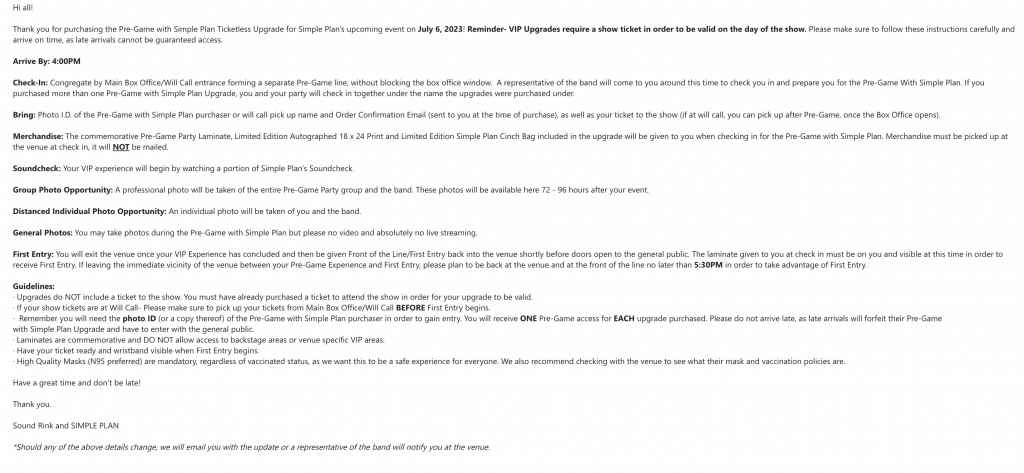 Do you offer packages for any show?
For the events that offer VIP packages
When will I get my instructions on how to receive my VIP package?
All buyers, regardless of when they've purchased their VIP package, will receive the meet and greet information for their concert between 5-7 business days prior to the concert. Due to Sound Rink's hours of operation being Monday – Friday from 10:00 AM – 5:00 PM EST., we do not include weekend days in the 5-7 business days.
What if I can't go? Can I give my package to my friend to use?
Yes, Sound Rink is able to assist its customers with name changes on their order(s) up to two (2) weeks prior to their concert. This will ensure that everyone involved is made aware of the name change within a timely manner. If you need help with a name change, please email:
and include the following information:
Your order ID # (can be found on your confirmation email) as well as the name you want the order changed to.
The ticket or VIP package that was purchased.
The date of the show you're attending.
Once your email has been received, we will answer back as soon as we can. Please note that our hours of operation are Monday – Friday, from 10:00 AM – 5:00 PM EST.
Where are my tickets and VIP package items?
When you purchase tickets through Sound Rink, they are almost exclusively available as Will Call pick-up. That means that we do not mail or email tickets to you—instead, you pick them up at the venue on the day of the show. Occasionally we will note, during ticket purchase, that a ticket will be delivered to you in the mail. However, in all other cases tickets will be available at the will call window. In the event that we are mailing you your tickets and you aren't able to retrieve your tickets from the mailing address that you gave us at check out, please reach out via email at
Here is an example email where we note pick up location (Will Call, in this case):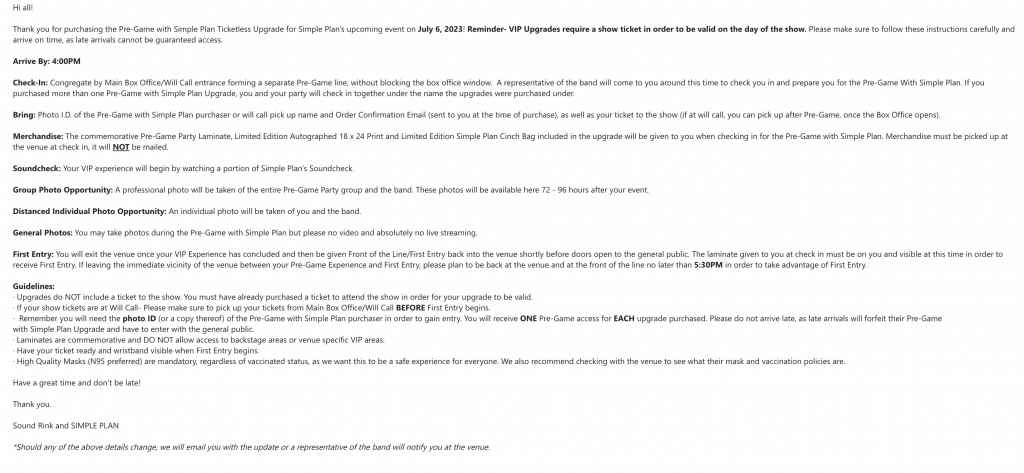 Am I able to get a refund on my VIP package?
Please see our refund policy here.
How long are packages available for purchase?
Package sales are available until packages are sold out, or until approximately 2 weeks before show date, whichever occurs first.
If there are any further questions, please email